R. Lakshmanan is the Founder and Managing Director of Pyramid SMC since 2014.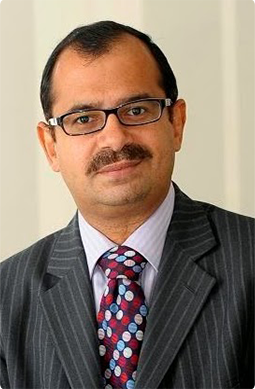 He is a specialist consultant in financial services, real estate and corporate governance to start-up ventures and growing companies.
Lakshmanan is a proven results oriented leader with 25 years of holistic experience including 15 years at "C" level across multiple geographies and roles in a multi-cultural environment.
Lakshmanan's experience includes formulating and implementing company strategy and business plans, overseeing the development and implementation of a range of financial and real estate solutions, building a strong brand, maximizing growth and profitability, developing and nurturing relationships with relevant stakeholders, establishing sound corporate governance and risk management framework.
For eight years, Lakshmanan was the CEO of an Islamic financial institution and instrumental in creating a leading holistic housing solutions provider in Bahrain. Prior to this, Lakshmanan held executive management roles across the GCC wherein he oversaw the working of varied corporate functions and managing lending and investments portfolio in excess of USD 1.3 Billion. In the real estate sector, Lakshmanan focused on sales, marketing, development and management of residential property.
Lakshmanan worked with leading organisations, including Sakana Holistic Housing Solutions – Bahrain, Amlak Finance – UAE, Alliance Housing Bank – Oman, KPMG – Bahrain, and Larsen & Toubro – India. He also held Board memberships in industry-related bodies – the Waqf Fund for Research, Education and Training in Islamic Finance and Bahrain Property Development Association (BaPDA).
A frequent speaker, Lakshmanan delivers speeches on mortgages, real estate, Islamic finance and leadership at leading conferences and professional forums across the GCC. He is also widely quoted in the media.
Lakshmanan holds Masters Degree in Commerce and professionally qualified Chartered Accountant, Cost & Management Accountant and Company Secretary from India. He also completed the "Global CEO" program conducted by Wharton – USA, IESE – Spain and CEIBS – China.